Carolyn Joyce Kimbel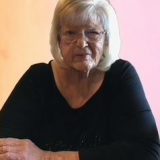 March 26, 1938 – March 3, 2021
Carolyn Joyce Prewitt Kimbel, age 82, passed away at home on March 3, 2021.  She was a loving wife, mother and grandmother.  She loved Jesus with her whole heart.  She wanted to be remembered that she "loved love, and wanted everyone to love one another, just as Jesus loves".  One favorite scripture was John 15:12 "This is my commandment that ye love one another as I have loved you".
She was a graduate of Istrouma High School, a long-time resident of Watson and Walker, and a member of Agape Baptist Church.
Carolyn loved traveling, reading her Bible, sending birthday and Christmas cards, and family parties and gatherings. She had lived in many places, traveling with her husband's job.  She once said her favorite place was the road because it led to the next adventure.
Her last adventure was departing here to be with Jesus.  Just as she shared in her Christmas cards to everyone, the picture of white horses with the scripture Revelations 19:14 "and the armies which were in heaven followed Him upon white horses clothed in fine linen, white and clean." She has her white horse!
Carolyn was preceded in death by her husband Richard M Kimbel, Father John Sam Prewitt, mother Notrea McClure Prewitt, and sister Jean Prewitt Little.  She is survived by her brother J. Douglas Prewitt and wife Susie, her sons Clint Kimbel and wife Teena, Clay Kimbel, David Kimbel and daughter Judy Hergruder and husband David. She loved and was proud of her grandbabies Meghan, Kaine, Brooke, Scott, CJ, Tara, Ray, Melanie, Austin, Kaitlyn, Kelsey, Blake, Tyler, Michael, Connor, Jessica, Bentley, and Rhaelynn and her great grandbabies Kaitlyn, Tanner, Lily, Zander, Hunter, Lanamakenzie, Lucy, Murphy, Daniel, Lauren, Matthew, Casen, and Emma.  She loved her babies, and as you see she was blessed with many.
Funeral services will be held Wednesday, March 10th at Seale Funeral Home in Denham Springs, Officiated by Pastor Chris Hardison. Visitation will be from 8am until services at 10, followed by 2:00pm graveside service at Pride Port Hudson National Cemetary.
Pallbearers will be her grandsons.
Final celebration will be a meal hosted at Agape Baptist Church, 25353 Walker South Rd, Denham Springs, La 70726 T 4:00pm.